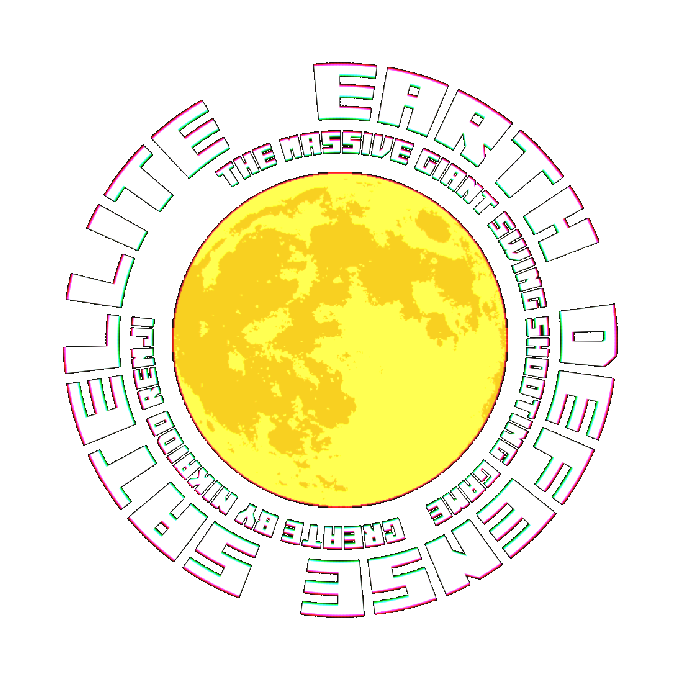 EARTH DEFENSE SATELLITE
A downloadable game for Windows and macOS
EARTH DEFENSE SATELLITE(アース ディフェンス サテライト)は地球を操作して月を振り回して戦うまったく新しいシューティングゲームだ !
無駄な要素を全てそぎ落としたシンプルゲーム
操作は難しいが奥深い
だからこそ命中したときの気持ちよさ、上達の喜びが味わえる
ゲーム史上最大級の主人公サイズ(12,742 km)
ゲーム史上最大級の武器重量(7.342×1022 kg)
ゲーム史上最大級のマップ面積(ブレスオブザワイルドの約3,865,668倍!)
EARTH DEFENSE SATELLITE is a novel shooting game that fights by turning the moon.

Simplicity of eliminating elements to the limit
It is difficult to operate
That's why you feel good when you hit, you can enjoy the joy of progress
The largest hero size of the game history (12,742 km)
The largest weapon weight in game history (7.342×1022 kg)
The largest map area in game history (about 3,865,668 times of Breath of the Wild !)
遊び方 How to Play
あなたは地球です。
あなたの武器は月です。
月は引力によって地球に引っ張られています。
あなたが移動すれば月の軌道が変化します。
月をうまく操って敵宇宙戦艦を撃退しましょう。
ヒント:引力は地球から離れれば離れるほど強くなっていきます。上手く活用すれば月を加速させることができます。
You are the earth.
Your weapon is the moon.
The moon is pulled by the earth by attraction.
The orbit of the moon changes as you move.
Let's manipulate the moon and repel the enemy Space Battleship.
Hint: Gravity will become stronger as going away from the earth. You can use it to accelerate the moon.
操作方法 Control
キーボードでも操作可能ですがXbox360ゲームパッドを推奨します。
[W][A][S][D] or [↑][↓][←][→]:移動
[Space]:決定、ポーズ
[Alt]+[Enter]:フルスクリーン切り替え
[F2]:色収差フィルタのON/OFF
[Esc]:ゲーム終了
This supports the Xbox360 GamePad. (recommendation)

[W][A][S][D] or [↑][↓][←][→]:Move
[Space]:Decision, Pause
[Alt]+[Enter] : Toggle full screen
[F2] : Toggle Chromatic aberration filter
[Esc] : End Game
Mac版:起動時にエラーが出た場合の対処法 Mac version: if an error occurs at startup
"EARTH DEFENSE SATELLITE.app"は壊れているため開けません。ゴミ箱に入れる必要があります。
ターミナルを開き、「sudo spctl --master-disable」と入力しリターンキーを押してください。必要に応じてパスワードを入力してください。(全てのアプリケーションが実行できる設定になります)
Unable to find game!!:
「EARTH DEFENSE SATELLITE.app」のファイルをデスクトップに移動させてから起動してみてください。(開発ツール側の問題のようです)
"EARTH DEFENSE SATELLITE.app" is damaged and can't be opened. You should move it to the Trash.
Open the terminal, type "sudo spctl --master-disable" and press the return key. Please enter the password if necessary. (All applications can be executed)
Unable to find game!!:
Please move the file "EARTH DEFENSE SATELLITE.app" to the desktop and start it up. (It seems to be a development tool side problem)
更新履歴 Update log
2017/5/13 Var1.0.0
公開。release.
2017/5/18 Var1.0.0
Mac版のエラーに関して説明を追加。 Added explanation about Mac version error.

2017/9/19 Var1.0.1
振動対応(Win版のみ)
今バージョンは環境によっては動きがスローになってしまうようです。問題がありましたらVer1.0.0でお楽しみください。(内容はほぼ同じです)

Support vibration. (Win only)
Now version seems to slow down movement depending on the environment. If

there is a problem please enjoy with Ver1.0.0. (The contents are almost
the same)
作った人 Made by
ニカイドウレンジ
NikaidoRenji
Twitter : @R_Nikaido
Mail : nikaidorenji@gmail.com
Purchase
In order to download this game you must purchase it at or above the minimum price of $2.80 USD. You will get access to the following files:
EARTH_DEFENSE_SATELLITE_100_win.zip
10 MB
EARTH_DEFENSE_SATELLITE_101_win.zip
11 MB
EARTH_DEFENSE_SATELLITE_100_mac.zip
12 MB
Comments
Log in with your itch.io account to leave a comment.
one idea game , but marvelous idea!
I'm excited about the frustrating movement of the moon.
levels with a high degree of difficulty.